Reviews
Cinderella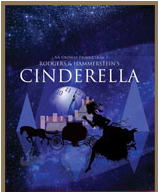 "Making a nice match with the well-cast Jeremiah James as Prince Christopher.
James' Christopher is smooth, elegant and altogether charming, befitting a prince."
Star Tribune Twin Cites
"We are equally charmed by her prince (Jeremiah James), whose Sweetest Sounds is sweet indeed, with just the right mix of naiveté and determination."
MPR
"Jeremiah James was, well, Jeremiah James. Fabulous. Handsome (dare I say sexy in a review?). And he did perfect justice to the tunes from the 1965 production that were ringing in my head all day before the show, the hits that for me, make this musical – "Do I love you because you are beautiful" and "Ten Minutes Ago." Sigh. Amazing, touching love songs that Mr. James just blew away with charm, style, and strong musical success."
TCJEWFOLK.COM
Gay Bride of Frankenstein
The song "Token Bad Guy," is deliciously good, with a delivery to match — this one by Jeremiah James as Dr. Shocker, who gives a brilliant performance. He's simply iconic as the character.
By Jeanné McCartin
seacoastonline.com
Beauty and the Beast
On the other hand (or face), actor Jeremiah James, who depicts the role of the Beast, is the true beauty of the production. He has the emotional range, both as an actor and singer, to pull off his character's monster-to-prince arc. The part has always been a bit of a cartoon -- we see him first as a menacing shadow at the Ordway -- but through his heartfelt singing, James gives it flesh and feeling.
By ROHAN PRESTON, Star Tribune
Gay Bride of Frankenstein
Except that the main couple is same-sex, the plot is standard issue. The gals, along with Chloe's shaggy brother Hairy (Christopher Hudson Myers) and boyfriend Thad (Jonathan B. Wright), are lured to a Halloween party at a mysterious house where Dr. Shocker (Jeremiah James, in sensational voice) needs the blood of a virgin girl to resurrect his dead wife. In other words, it's an excuse to rock out and have fun.
Reviewed By: Dan Bacalzo and Patrick Lee · Oct 5, 2009 · New York
Jeremiah James, another fine voice, hams it up as a Michael Ball-ish villain.
nytheatre.com review
David Vining · September 30, 2009
Carousel Reviews

Truly believable as Billy, Jeremiah James convincingly portrays both the gentle and brutish sides of his character, while Alexandra Silber's heartbreaking performance is capable of stopping the show
Linda Martland THE STAGE
"Jeremiah James is outstanding"
Observer
"Jeremiah James is sexily magnetic' Metro"
Metro
But it's easily explained by the tremendous chemistry between Alexandra Silber's vulnerable and deeply touching mill-worker and Jeremiah James's dark, brooding hothead Billy. Being a' couple o' specks o' nothing', as Billy puts it, makes them kindred spirits. Their yearning pours out in If I Loved You, and Billy imagines the child Julie is carrying, James makes the transition from fecklessness to fatherhood in the space of one marvellous number. (The Soliloquy)
Georgina Brown THE MAIL ON SUNDAY
It's a treat, too, to have a lead who exudes real American man. Jeremiah James, who plays fairground bad boy Billy Bigelow, conveys his raging, passionate uselessness in a way which wins your empathy, despite his tendency to smack the women he loves in the chops.
TIMEOUT MAGAZINE LONDON
Jeremiah James brings a dangerous air and brooding sex appeal to Billy Bigelow.
March Shenton, LONDON LITE
Jeremiah James's Billy Bigelow is outstanding too: the desperado with the heart of gold, his conscience flickering like a faulty pilot light.
Kate Kellaway THE OBSERVER
What a shattering impression James and Silber make, after the dead Billy returns to earth and realises his daughter is following in his unhappy footsteps." I let my golden chances pass me by," he sadly sings and returns to heaven , half his life lost. An experience to cherish.
Nicholas De Jongh, EVENING STANDARD
. Posner's actors, especially the vocally impressive Alexander Silber as a touching Julie and Jeremiah James as a muscular Billy, play the heart of the piece with stirring conviction.
Michael Coveney Whatsonstage.com
Jeremiah James as the dark-souled Billy and Alexandra Silber as the adoring Julie possess fine voices
Michael Billington The Guardian
The level of singing throughout is close to operatic. Muscular Mr James (as good-looking as a young Oliver Reed) brings nonchalance to his part in the duet If I Loved You - a contrast to Alexandra Silber's impassioned Julie.
QUENTIN LETTS DAILY MAIL
Silber herself has a rich mezzo soprano voice, and her duets with Jeremiah James's full-bodied Billy are packed with both longing and disappointment.
Michael Coveney THE INDEPENDENT
Oklahoma! Reviews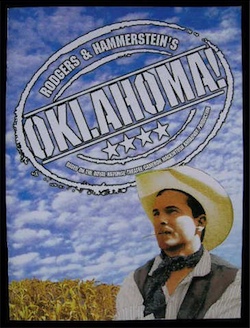 "Jeremiah James puts a swagger into Curly's step but lets dreaminess seep into his eyes. His baritone singing voice is soft and subtle at the top of his range, booming and virile in the middle and lower regions."
Los Angeles Times
"'Oh, What a Beautiful Morning' retains its pull and cowboy, Curly, Jeremiah James sings it with verve." Variety
"As it happens, the cast could hardly be better, with Jeremiah James and Julie Burdick delivering a Curly and Laurie that make the character entirely their own. The chemistry between these two is beautiful, full of Southwestern twang and sass that invigorates every scene they play together. And they have the voices to match - James a rugged yet sensitive tenor capable of coxing every drop of poetry out of 'Surry' ..."
The Hollywood Reporter
"First off, there is Jeremiah James, the Palos Verdes Peninsula native who is making a name for himself on the musical stage. As Curly, James cannot only sing, but he brings a physical and acting aura to the role that was beyond MacRaie, for instance. he has a wonderful singing voice, perfect for the likes of 'Oh, What a Beautiful Mornin,' 'The Surrey With the Fringe on Top,; and, of course, 'Oklahoma!'"
Daily Breeze, Los Angeles
Burdick and her Curly, Jeremiah James, bring true youth, zest, and passion to their leading roles. James is a classic leading man, riched voice, charismatic, and handsome."
Miami Herald
"Curly, meanwhile, is among the most charming cocky cowpokes to play the stage, and Jeremiah James in the role is all that and more, stealing every scene he's in with a glorious voice and fanciful air. Frankly, you can't take your eyes off him."
Tampa Tribune
"If anyone in the cast fits the heroic mold, it is the tall and thin Jeremiah James playing the brash and quietly jealous cowpoke with a clean midwest look and a cocked smile that stops shy of arrogance. Imagine the onscreen personalities of Jimmy Stewart and Mel Gibson rolled into one and you'll have a good notion. His singing ain't all that bad neither." Memphis Tennessee
"Jeremiah James as Curly charms us from the very beginning when he walks onstage singing "Oh, What a Beautiful Morning" with a tenor as beautiful as the day he's singing about." Naples Daily News
"The cast is led ably by the talented duo of Jeremiah James as the stubborn cowboy, Curly, and Julie Burdick as the headstrong fun girl, Laurie. James has a warm likable manly onstage presence and a clear rich singing voice."
North County Times, San Diego
Our Town

"Willow Geer-Alsop and Jeremiah James are picture perfect as George and Emily in this classic production of Our Town ..."
Backstage
"James strikes the perfect balance of youthful insecurity and emerging manhood as Gibb."
LA Daily News
Crazy for You

"It was a pleasure to watch Jeremiah's acrobatic Bobby Child ..."
L.A. Weekly